Dentistry News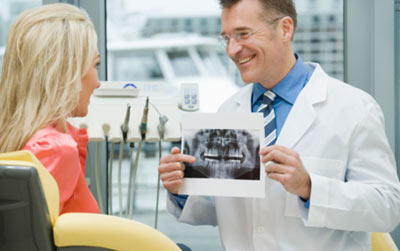 WHAT: Children's Dentistry in Southern Nevada will be holding a drive for children and their parents to drop off unopened Halloween candy to be donated to troops currently stationed overseas. Each person to drop off candy will receive a free dental ...
(Oct 18, 2017, Nevada Business Magazine (press release))
Ridgefield Cosmetic and General Dentistry has announced the addition of Dr. Kelsey Jones to its practice. Dr. Jones worked for several years as a dental assistant for Dr. Pizzo before going to dental school in 2013. Jones graduated magna cum laude in ...
(Oct 18, 2017, The Ridgefield Press)
Eagle Rock Dental Care is based in Idaho Falls and has been operating for 46 years and has been providing personalized and friendly dental services keeping adults and pediatric patients at ease whilst maintaining their oral health. The practice offers ...
(Oct 18, 2017, E-Dental.com)
So when it was time for 4-year-old Ella's annual trip to the dentist in July, they again never suspected much trouble. An insurance change put Ella in Dr. Deanna Alevizos's dental chair at Metro Dentalcare in Burnsville. "She got her teeth cleaned ...
(Oct 17, 2017, CBS Minnesota / WCCO)
New Garden Township, Pa. (WTXF) - A local dentist who is accused of indecent assault and harassment is back on the job after charges were filed. Penny Orner left the office of dentist Michael Afash Tuesday evening with a pained look on her face. Not ...
(Oct 17, 2017, FOX 29 News Philadelphia)
Instead I will focus on how the business environment of dentistry has changed—and specifically on the conglomeration of a very fragmented dental industry and how private practice dentists can leverage these changes for practice growth. Fifteen years ...
(Oct 17, 2017, Dental Economics)
A Marquette University School of Dentistry alumnus has pledged a $5 million estate gift to the dental school — the largest donation in the school's history so far. The planned donation, which will be used to support scholarships for veterans and their ...
(Oct 17, 2017, Milwaukee Business Journal)
El Dorado Family Dentistry is proud to announce Dr. Guy Resch and staff have joined the team at El Dorado Family Dentistry along with Dr. Nichols and Dr. Rasband. Resch is seeing his current patients as well as accepting new patients at 202 N. Main St ...
(Oct 17, 2017, Butler County Times Gazette)
Marquette alum donates $5 million to School of Dentistry | BizTimes ...
(Oct 17, 2017, BizTimes.com (Milwaukee))
Free Dentistry Day was created to provide aid to the growing number of adult Americans who can't afford dental services. Last year, over 2,500 patients were given free dental care and more than $1,000,000 in free dentistry was provided by dentists and ...
(Oct 17, 2017, Mike Delaney (press release) (blog))
Aimee Werremeyer's practice, Sweet Tooth Family & Cosmetic Dentistry, moved into its new location, at 4104 Eliza Ave., Bellingham, from its old location on Meridian Street in August. The new location is at the intersection with West Bakerview Road ...
(Oct 17, 2017, The Bellingham Business Journal (blog))
Aboafch, a dentist who practices under the name of Michael Aboafch, DMD, is accused of having indecent contact with a 21-year-old female, during a job interview and dental examination. Charges were filed and Aboafch will be issued a summons, police ...
(Oct 17, 2017, The Delaware County Daily Times)